Boomerang
It's no coincidence when it happens this way.
2016, 5 minutes 30 seconds, 3820 index cards
Music: composed by Christopher "Bird" Jowaisas, performed and recorded by The Absynth Quintet.
Awards
Best International Music Video, Cork Film Festival, 2017
Best Music Video, Ann Arbor Film Festival, 2017
Best Music Video, Nonplussedfest, 2017
Jury's Choice Award, Black Maria Film Festival, 2017
Special Screenings
National Gallery of Art, Washington DC, 2017
---
---
Synopsis
Inspired simply by the song itself (Boomerang, by the Absynth Quintet), the animator has created a moving interpretation of the lyrics, tempo and instrumentation. The workings of nature and the universe are mystically and whimsically illustrated in this fast paced, gorgeously hand drawn film. Great music and a quirky sense of humor define the beauty of it all, and it's no coincidence when it happens this way.
Artist's Statement
For many years I have animated my films by drawing on 3X5 inch index cards, and Boomerang is no exception. There is, however, a big difference between this film and all of my previous ones. Instead of animating and then adding music later, this time I began with a completed recording of music and animated to it. I let the song, it's lyrics, tempo and instrumentation, inspire all of the visuals, and the story that came out surprised even myself.
My drawing style, though whimsical, does rely heavily on real life. I do a lot of figure drawing, and used a life model for the jester character in the film.
I scanned my little drawings using a regular desktop scanner. I then colored them in Photoshop in a way that retained the texture of the paper because I wanted the whole picture to look "alive". Unlike most animation, my drawings are on a single layer, so everything you see needed to be drawn by hand on every frame, at a rate of 12 drawings per second. There are exactly 3820 drawings in this film. It took just under two years to complete.
The Music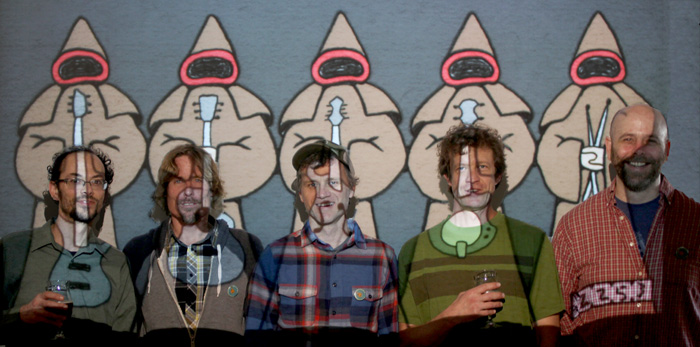 This is the Absynth Quintet. If you visit their website, you'll see they are currently a quartet. Stuff happens. Their song Boomerang was written by Chris "Bird" Jowaisas, he's the one in the middle, and lead singer on this tune. Left to right: John Ludington on bass (and barking paper puppy), Ryan Roberts on guitar (and he does the recording), Bird on mandolin, Ian Davidson on banjo (he builds awesome electric banjos too), and Mike "Tofu" Schwartz, gregariously on drums.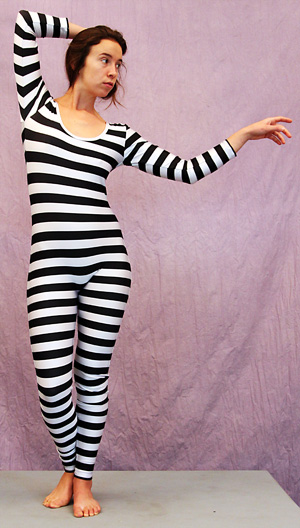 The Jester
This is Bella, she spent many hours modelling for the Jester character and provided much inspiration. I mostly drew from life but also shot reference photos like this one. Throughout the film you can see how I experimented with different ways of drawing stripes.
Stills
Click on an image below to get a full resolution, printable file.
FAQ
How long did it take to make this film?

It took me 627 days (about 21 months). I mostly worked weekdays from 8:30 a.m. to 12:30 p.m.

How many index card drawings are there?

3820.

How many drawings would you do per day?

Well, hard to say because I would work on batches of drawings, as opposed to doing one complete drawing and then the next. But if pressed, I'd have to say, on average, less than ten.

What kind of molecule was that?

That was an absynth molecule. I made it up.

What does the inscription on the gravestone say?

BOOMERANG. It's no coincidence when it happens this way. 2014-2016.